31/10/2019
What does KEDGE offer its former students?
In order to meet the expectations of the school's graduates, KEDGE Alumni has set up a range of services designed especially for you, former students. We tell you about everything in this article!
KEDGE ALUMNI, THE NETWORK OF GRADUATES, YOUR NETWORK
To date, you are more than one of more than 67,000! Although some amongst you may have not attended under the name "KEDGE" (but rather BEM, Euromed, or Sup de Co), you are nevertheless part of the powerful network of KEDGE Business School. So, it's natural that the school offers numerous services, for the rest of your life. That's the role of KEDGE Alumni.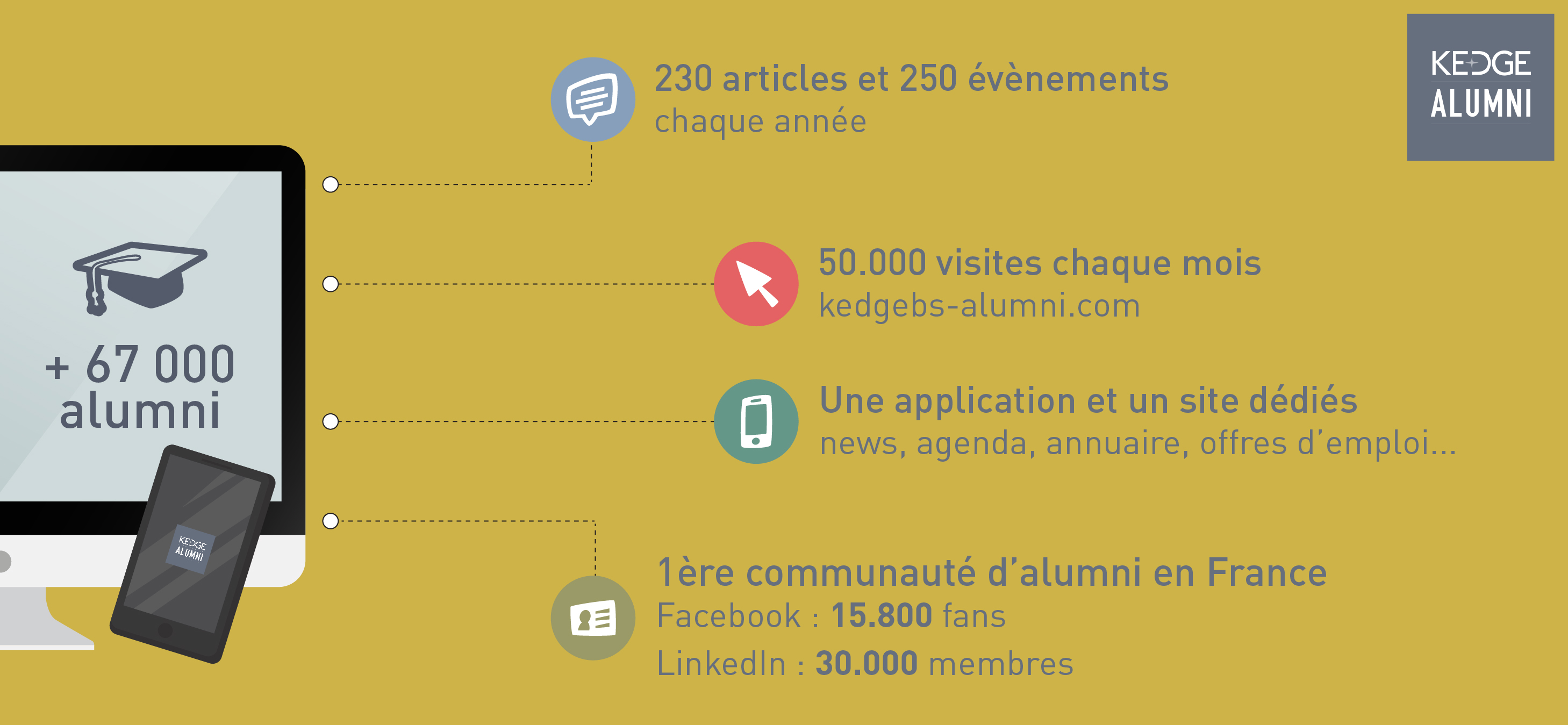 ---
Haven't graduated yet (student?) We also have services for you!
Today's students are tomorrow's graduates. Building your network starts now! Although many of our services are limited to those Kedgers who have already left our school, many others are completely available for students.
---
🎓 I AM A GRADUATE IN SEARCH OF EMPLOYMENT
#1 KEDGE Alumni Job Board 💼
Like our name indicates, KEDGE Alumni is mainly for those who have already graduated! Consequently, you will only find offers for permanent or fixed-term contracts and VIEs that have been posted by our graduates, KEDGE partners, or well-known websites such as Monster and Cadremploi. Thousands of jobs are available.
Our Job Board is private and limited to Kedgers. You must be recognised as a graduate of KEDGE to access it; it's this exclusivity that recruiters are interested in. Therefore, you must be logged into your KEDGE Alumni account before following the link below.
Click here if you have forgotten your KEDGE Alumni login details
#2 WATs4U: The network of the 22 best schools 🤝
WATs4U is a reputable website that, to date, brings together the 22 best business and engineering schools. The objective is to offer graduates from those schools the best opportunities offered by recruiters in search of new talent.
There you will find verified job offers and a directory consisting of former students of the partners schools. It's the chance to expand your professional network. To access it free through our partnership, you must be recognised as being a KEDGE graduate. Therefore, you must be logged into your KEDGE Alumni account before following the link below.
Click here if you have forgotten your KEDGE Alumni login details
#3 Going Global: For an international career ✈️
Prepare for your move abroad with Going Global and take advantage of free access this website which assembles useful information for each country (visas, insurance, housing, jobs, etc.) There are also hundreds of posts for jobs abroad on this site!
To access it free through our partnership, you must be recognised as being a KEDGE graduate. Therefore, you must be logged into your KEDGE Alumni account before following the link below:
Click here if you have forgotten your KEDGE Alumni login details
#4 The graduate directory 📔
If you are a KEDGE graduate, you are entitled to a personal profile in the KEDGE Alumni directory. We encourage you to provide as much information as possible so that other Alumni can identify and contact you. Be sure to include your address and your email address, because it lets us send you targeted invitations to events in your region. You can also link your profile to your LinkedIn account so that it will be automatically updated. Finally, you can use the directory to find the contact information of Kedgers who work in specific companies. As a reminder, it is strictly forbidden to use the directory for commercial reasons.
Click here if you have forgotten your KEDGE Alumni login details
CONSULT THE DIRECTORY EDIT MY PROFILE
#5 Numerous employment workshops 👍
In addition to the different websites referenced above, KEDGE Alumni also organises numerous workshops, tools, and services for graduates looking for work. Here are several examples:
Special support for new graduates (via videoconference or live): For three years, new graduates are entitled to five hours of free coaching;
Employment workshops (via videoconference or live): Group workshops to help job searches;
Individual coaching (via videoconference or live): We offer the services of a professional coach at unbeatable rates; and
And many more.
---
🎓I'M A GRADUATE IN DOING A CAREER CONVERSION
#1 Fresh Start: service to help with a conversion 🔀
More and more of you dream about changing careers. It is estimated that employees of the future will change jobs or companies every four years on average. As the employment market is constantly evolving, it's important for you – our graduates – to anticipate change. Through its "Fresh Start" programme, KEDGE BS Alumni offers all former students of KEDGE Business School to get assistance with their career change plans.
In order to undertake a career change while being sure to follow the right paths, professionals will be at your disposal to guide you day after day. This service includes five group coaching workshops (group sessions where everyone discusses their ambitions and objectives), two individual coaching sessions where only your plans will be addressed, as well as a validation interview that will allow you to get started.
#2 "Taking stock of your career" workshop 💼
Would you like to get personalised support for your career? KEDGE Alumni has organised individual workshops to help you review your career path. These two-hour workshops are led by certified professional coaches. During these meetings, you will exchange with the coach to:
Evaluate your career;
Diagnose your situation;
Provide you with personalised advice to guide you in your career choice.
TAKE STOCK OF MY PROFESSIONAL CAREER
#3 Workshop "Getting to know yourself better thanks to the MBTI" 🔍
The MBTI test (Myers-Briggs Type Indicator) is based on Jung's theoretical contributions. It allows you to discover your personality, and develop quality relationships with your customers, your employees, your partners, etc. You will find out what your strengths and specific qualities are, which lets you to get to know yourself better in order to develop your potential, improve your relationships with others, and make rationale choices your professional development.
---
🎓I'M A GRADUATE AND AN ENTREPRENEUR
#1 Access to the XERFI database🗃️
With a focus on constantly expanding the services we offer, and to best meet your expectations, we have entered into a partnership with Xerfi700 (Knowledge). This database gives you access to nearly 600 sectoral studies divided into the following:
Xerfi France Collection: Sectoral reports on some 400 sectors of the French economy, supply and demand analysis, short-term sectoral forecasts, and presentation of the main operators in the sector;
Global Business Collection: International studies. Analysis and forecasting of 150 key sectors of the world economy. Reports are entirely in English;
Xerfi Group Collection: Complete profile of 60 French companies from all: strengths and weaknesses of the business, positioning in relation to the market, strategic orientation, investment policy, major conclusions of the analysis of its accounts.
#2 "Dare to Start your own Business" Workshops 👔
Are you in a job and want to change careers or are you thinking about starting your own business? You want to forge your own path but are asking yourself if it's the right thing to do, if entrepreneurship is right for you? KEDGE Alumni invites you to participate in the "Dare to Become and Entrepreneur" programme. Benefit from a total of 16.5 hours of coaching (15 hours of group coaching and 1.5 hours of individual coaching) to support you in business creation planning.
This workshop consists of brainstorming, creativity, discussions, and comparing ideas to help you develop your project and get started.
DARE TO BECOME AN ENTREPRENEUR
#3 Project Support with the Business Nursery 🤝
Do you want to move from being a project leader to being a business creator? It's time to join the KEDGE incubator.
The KEDGE Entrepreneurship area is open to graduates of the school, but also to associations, partners, companies, and project leaders who would like to take advantage of KEDGE's services. They can rely on human resources (lecturers, collaborators, professors, coaches, mentors) and material resources (business nursery incubator, supply chain centre of excellence, brainstorming and conference room, coworking areas, meeting rooms, etc.
---
🎓 I'M A GRADUATE AND A SENIOR EXECUTIVE
#1 Individual coaching for senior executives 🔍
Project support by the Business Nursery 🤝
Do you want to move from being a project leader to being a business creator? It's time to join the KEDGE incubator.
In order to meet the expectations of our graduates, we have set up a range of services designed specifically for senior executives. These services, which are now available in person or by videoconference, will enable you to find answers to your managerial and professional problems, support for internal mobility, integration, and change management.
#2 Co-development workshops for senior executives 👔
The objective of this workshop is to find innovative solutions to professional problems, learn the art of questioning, share views with peers, and develop today's essential people skills.
This workshop takes place over a cycle of 5 sessions of 2 hours each. However, it is possible to attend sessions on an ad hoc basis. For logistical reasons, only the first date is set, and the following ones will be scheduled during the first session taking into account your respective schedules.
#3 Individual "Outplacement Executive" Workshop 🙋‍♂️
This workshop is divided into two steps:
The first step is dedicated to building your operational excellence. At the end, you have a know what your capabilities are, and how much leeway you have. You will have capitalized on what you've learned from your professional experiences, your successes, and also your failures. You will know better about your way of working and how much you can count on yourself.
The second step of the program is designed to define your professional goals. You will then be in a position to decide on your standing (position, sector, employment pool) and can target your next career move as accurately as possible.
The 14-hour coaching course consists of a two-hour closing session, five coaching sessions of 2 hours in person or by phone, spaced one to two weeks apart depending on your pace of progress and preparatory work, and e-learning modules prior to these individual appointments to optimize their efficiency.
#4 Train your teams with KEDGE Executive Education 💼
KEDGE supports the growth of your company through the deployment of intra-company and tailor-made systems, accessible in France and abroad (training in French and English)
Among our current references: AIRFRANCE - APEC - ARCELORMITTAL - AUDIENS - BPCE ASSURANCES - BPI FRANCE - CASINO - CCI Côte d'Ivoire - CMA CGM - CNIM - CROSSKNOWLEDGE - DOMOFRANCE - E. LECLERC - FAYAT - GFI - INTERMARCHÉ - LACTALIS - LA BANQUE POSTALE - LAFARGE - LA POSTE - LVMH - Maison de Santé Protestante de Bordeaux-Bagatelle - MBDA - NOCIBE - OCP - ORANGE - POINT.P - SIBLU - SODEXO - SUDOUEST - UNIFAF - VIAPOSTE
FIND OUT MORE ABOUT OUR TRAINING PROGRAMMES
---
👇 BUT ALSO...
#1Access to continuing education and an MBA from KEDGE at reduced rates📚
Graduates are entitled to preferential rates on all training programmes.
DISCOVER OUR EDUCATIONAL PROGRAMMES
#2 "Investing for Retirement Differently" Workshop 💼
If you would like guidance on your retirement, we have created a workshop to help you prepare for your retirement, face the challenges of change and build a project that suits you. This workshop consists of a 3-hour video-conference and individual session.
#3 57 International Branches🌍
Afterworks and conferences are organised throughout the year and throughout the world. More than 100 gatherings of Kedgers take place around the world each year!
DID YOU GET A PROMOTION, OR ARE LAUNCHING A PROJECT OR A START-UP?