16/09/2020
This Kedger has launched UpTrade: the purchasing agency that saves fabrics
KEDGE graduate Éléonore Rothley's goal is to limit waste in the fashion industry and support eco-responsible approaches.
---
INTERVIEW 💬
1️⃣ To begin, tell us about your educational background. What did you study, both before and at KEDGE?
After I graduated from high school in 2009, I started attending a business school prep class - two intense years, and I finished without being completely satisfied. I then decided to get up and do it again - but this time (thanks to equivalents) by doing an L3 in eco-management. It was a whole new world. I passed the Tremplin exams and enrolled in KEDGE, and was happy to reconnect with my hometown.
At KEDGE BS on the Bordeaux campus, I took the AP2 route for the first few months as a sort of refresher, and then started the classic Master in Management Grande Ecole Programme (PGE). I mainly took courses in management and communication, and modules led by professionals. Between my first and second years, I decided to take a gap year and have two internships. The first was a project and communication manager at a foundation in Paris that supports social projects in France on education issues and integration through economic activity. The second one was as a Community Manager at a social enterprise in the textile field in Cambodia. I finished my education at RMIT Melbourne in Australia with a Master 2 specialising in communications and media.
FIND OUT MORE ABOUT KEDGE'S MASTER OF MANAGEMENT GRANDE ECOLE
2️⃣ Tell us what you did after your studies were finished. What positions have you held? What did you learn in those positions?
I finished my studies in Australia and decided to extend my stay. I did "odd jobs" for a little over a year, such as working in cafes, helping friends etc. I had a lot of work to do. When I came back to France, I decided to do an eight-month civic service stint with a large French NGO as a project and communication manager. My job was to renew the volunteer base by communicating and creating events for students and young workers. As I had been involved in social and environmental projects with associations in France and abroad since I was 16 years old, this job was a smooth return to French life, and I was able to find my bearings and develop my skills within an intergenerational team.
When that position ended, I was confronted with the difficulty of finding a similar position within an NGO or a social enterprise. I finally got a job working in Ed-Tech at a French startup as a business development officer. It was the idea of offering educational solutions to reduce the digital divide at schools that attracted me to the position, and the fact that I would work with local authorities. It was a challenging and highly evolving position in a dynamic and fast-paced environment. Working at a start-up that was still developing allowed me to gain autonomy very quickly and to have responsibilities. It was also an opportunity to develop many technical and behavioural skills, such as teamwork, flexibility and adaptability, etc.
3️⃣ What are you doing/what is your situation today? What gave you the idea and why do you want to do what you're doing today?
As I became increasingly aware of the environmental and societal issues that need to be addressed, I could no longer find meaning in the job I was doing and it no longer meshed with my values. I was closely following the project of my friend, and future partner, Charlotte, so I offered to help her develop certain subjects. We are both driven by the same environmental and social convictions, and we both know that it is necessary to change our habits if we want to preserve the planet. That is why we're trying to be actors of this change by taking small and large steps on both personal and professional levels. So, 10 months ago we decided to join forces and create UpTrade to further our goal. UpTrade is a sourcing and purchasing agency that rescues the ends of rolls, scraps, and rejected materials from the textile industry to make them available to those who will give them a second life. Our mission is to limit waste and overproduction in the textile industry by using what already exists.
4️⃣ What are your development goals for the future?
As our project progresses, and the more meetings we have, we've become aware that there is a real gap between the absorption capacity of the market and the quantity of textile raw material available. The large companies we meet with have stock problems on a large scale, representing thousands of rolls. Our initial closed-loop purchase/resale activity within the fashion industry is essential, but not sufficient. Therefore, we want to think about other ways of using this material in other industries, through recycling or transformation processes. We also want to develop our project in Europe, to broaden our sourcing of materials and support European know-how.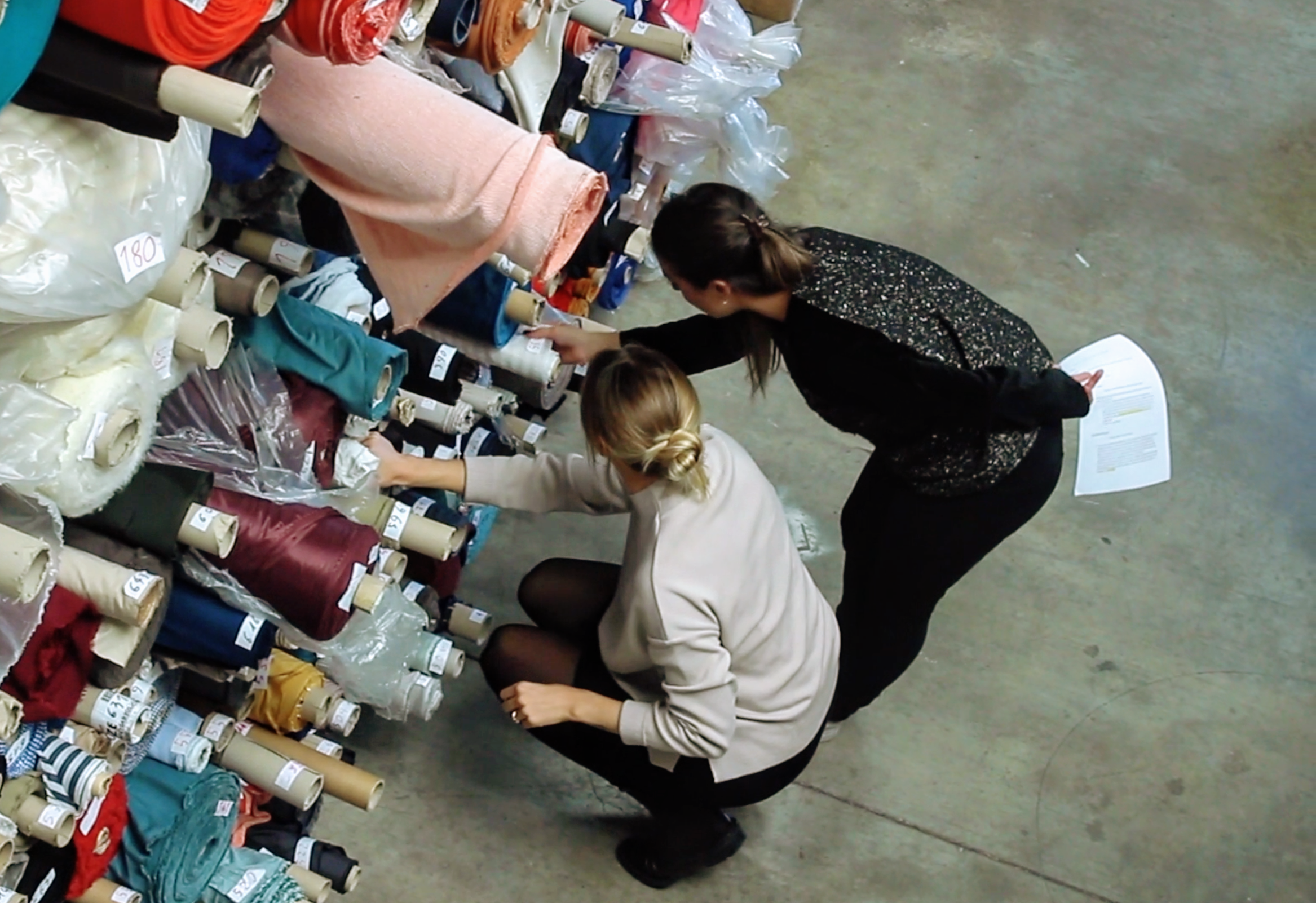 5️⃣ How did your education at KEDGE Business School help you become who you are today, and what was it about its teachings helped you develop your project?
The education I received at KEDGE gave me the opportunity to choose my career path and to follow a course of study that matched my interests. This rich and varied education gave me a global vision that allowed me to shape during my international experiences, internships, and exchanges. My time abroad taught me a lot, and my outlook on the world changed. I was able to discover new cultures, different management styles and refine what I wanted out of a career. KEDGE gave me a solid set of skills that helped me to throw myself into projects I wanted to work on.
6️⃣ If you had to give advice to any other KEDGE graduate who would like to do something similar, what would it be?
Don't go forward with your head down! It's good to have ideas and want to take action, but you must take the time to analyse your market beforehand and establish a business model and a business plan. You have to be pragmatic. I would add that it's also important to surround yourself with the right people, who have complementary skills, each with their own area of expertise.
7️⃣ Anything you'd like to add? A message to pass on?
In increasing our knowledge base of material recovery and recycling solutions, we are looking for partners and/or experts. Also, if you work in the fashion and textile industry and our project speaks to you, please don't hesitate to contact us.
DID YOU GET A PROMOTION, OR ARE LAUNCHING A PROJECT OR A START-UP?