05/02/2020
These Kedgers have launched Plug'Heur: the self-service battery rental service
Under the guidance of KEDGE's Business Nursery, Louis and Arthur Lothaire have found the solution to never running out of batteries!
INTERVIEW 💬
1️⃣To begin, tell us about your educational background. What did you study, both before and at KEDGE?
Louis Lothaire: Before I began attending KEDGE, I went to Sainte-Marie Grand Lebrun secondary school in Bordeaux. After graduating with a bac in Economics and Social Sciences in 2017, I enrolled in the Bachelor's programme at KEDGE. Passionate about business, I chose to specialise in finance from my third year in order to broaden and perfect my knowledge.
Arthur Lothaire: After doing a preparatory class at the Lycée Montaigne in Bordeaux, I enrolled in KEDGE's Master in Management Grande Ecole Programme (PGE). I've always been attracted to entrepreneurship, innovation, and new technologies, so I decided to do an à la carte curriculum, which let me choose the courses I was interested in. These courses allowed me to acquire skills in sales, marketing, and entrepreneurship.
2️⃣What are you doing/what is your situation today? What gave you the idea and desire to do what are you doing today?
We are so dependent on our smartphones that, when their batteries die, our work and social life can be heavily impacted. That's why we came up with the idea of Plug'Heur. Plug'Heur is a self-service external battery rental service via a mobile app (iOS and Android). It locates terminals that are placed in the most crowded places in Bordeaux (bars, restaurants, fitness rooms, train stations, etc.). Just scan the QR code on the terminal, and that's it! An external battery is released and your rental begins. You can remain mobile while charging your phone, which is what makes Plug'Heur innovative. Our service is available in Bordeaux from 7 February and in other cities very soon
We are associated with a very good friend, Émile GRANVEAU, who's currently in an engineering class preparatory at Gustave Eiffel in Bordeaux. She's in charge of the technical side, particularly on the internal software and the app. All three of us bring our own skills to the project and then come together on the Plug'Heur's major decisions. This complementarity is precious and serves us every day in the production of our project.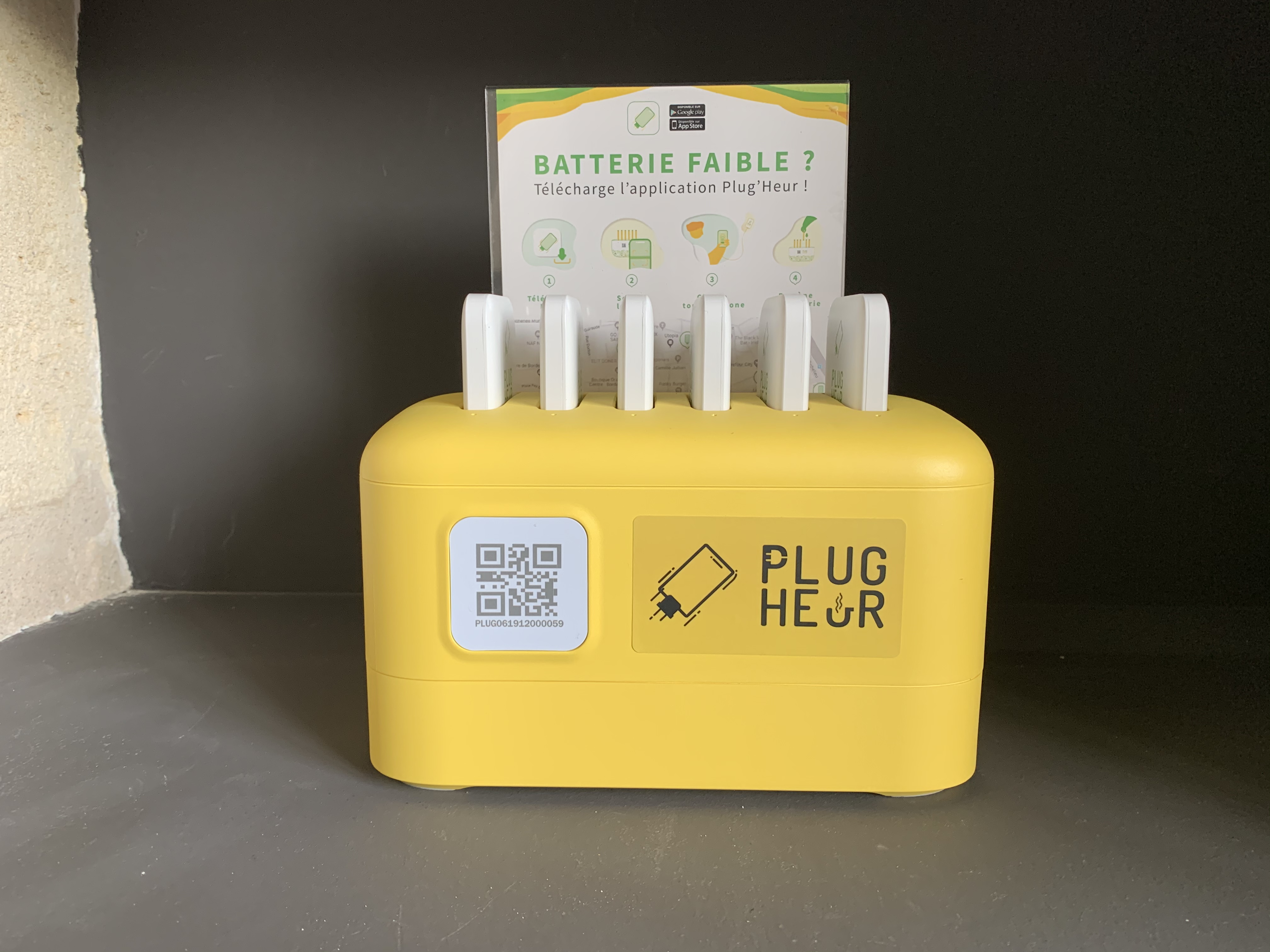 3️⃣What are your development plans for the future?
After we carried out a market study, it became clear that this wasn't only a local need, but measured on an international scale. Since battery failure is universal, anyone using a smartphone would be interested in our solution. Our strategy is to begin in Bordeaux, a city that we know perfectly well, to analyse user behaviour and improve our service as much as possible.
For the rest of 2020, we plan to open the service in five French cities and one European city to demonstrate the scalability of our service. From 2021 onwards, we'll need to move very quickly and precisely in order to establish ourselves in strategic cities. We'd like to become the European leader in mobile recharging by setting up 15,000 terminals by the end of 2023.
4️⃣How did your education at KEDGE Business School help you become who you are today, and what was it about its teachings helped you develop your project?
On a purely academic level, the education I received at KEDGE provided basic business knowledge in marketing, finance, and entrepreneurship. By talking with our respective teachers, we were able to enrich our skills and solve some of the difficulties we encountered while constructing our project. Additionally, our involvement in the school's associative life helped us in regards to project management, creativity, and interacting with professionals.
5️⃣How did the Business Nursery help you in building your career and your success?
KEDGE's incubator, the Business Nursery, provides us with a wide range of support through workshops, conferences, and case studies, which help us effectively resolve difficulties we might be faced with. In addition, we are fortunate to have the benefit of a mentor, Julien Casel, co-founder of Bubble in Paris, who provides us with considerable assistance in our development strategies. Thanks again to the Business Nursery, and especially to Diane Le Nay for her help and involvement in the implementation of our project.
6️⃣If you had to give advice to any KEDGE Alumnus or Alumna who would like to do something similar, what would it be?
Arthur Lothaire: I would advise them to believe in their project and to give themselves the means to achieve something that is really important to them. Entrepreneurship has allowed all three of us to grow, mature, and gain assurance and self-confidence.
Louis Lothaire: The main advice I can give to young graduates or students of KEDGE is to realise that anyone enthusiastic and devoted can attempt to set up a project. However, the most complicated thing is not having an idea, but carrying one through, which often requires long and laborious work.
Émile GRANVEAU: Not being a student in a business school, I think that anyone with a passion for entrepreneurship should believe in their project and go for it. When you want something to work, you have to give everything you have to make it happen. You also have to know how to take criticism and bounce back without ever giving up.
7️⃣Anything to add?
Download the Plug'heur app on the different mobile operating systems. We hope the KEDGE Business School community will support us.
DID YOU GET A PROMOTION, OR ARE LAUNCHING A PROJECT OR A START-UP?