27/05/2020
At the head of Cocktails d'Hadrien, this Kedger has been innovative and has launched an online site!
2014 KEDGE graduate, Hadrien Durieux is at the head of this amazing company that makes healthy and gourmet frozen drinks.
The original idea of Cocktails d'Hadrien was to popularise the consumption of frozen drinks. They are made with quality ingredients, without artificial colours or preservatives. The company was created in 2017. Initially, we offered three recipes (mojito, strawberry mojito, and piña colada), with three more concocted (planter's punch, coconut punch, and margarita) in 2019.
Encouraged by the success of these first products, this year Hadrien is offering a new product for children: "Granistick" popsicles. With an ambitious goal to become the benchmark of popsicles, by distinguishing itself on its taste and ingredients! In fact, the Granistick contains 25% fruit and is guaranteed to be without ARTIFICIAL COLOURING, CONSERVATIVES, OR ADDITIVES!
---
INTERVIEW 💬
1️⃣ To begin, tell us about your educational background. What did you study, both before and at KEDGE?
I graduated from the CESEMED programme in 2014. I took advantage of my schooling to have multiple experiences abroad, which were in Dubai, Shanghai, Istanbul, Denmark, and South Africa. I only stayed on the Marseille campus for 18 months during the 48 months I spent at KEDGE. I did both internships and academic exchanges during which I discovered incredible cultures and completely different ways of seeing the world.
2️⃣ Tell us what you did after your studies were finished. What positions have you held? What did you learn in those positions?
After my end-of-study internship at a major French agri-food group in Cape Town, South Africa, I decided to stay with the company and continue to increase develop our presence in the Sub-Saharan region and in East Africa. After three years in the company, I wanted to move back to France to create my own company. And to be honest, coming home is not easy at all!
3️⃣ What are you doing/what is your situation today? What gave you the idea and why do you want to do what you're doing today?
It was in South Africa that Cocktails d'Hadrien idea was born. During a festival in the middle of summer, in 40°C weather, I went to the nearest bar for a fresh Mojito. The waiter told me that he doesn't make cocktails because it takes too long and they aren't trained to make them. The idea of being able to serve a ready-made product, including crushed ice and real mint flakes, came about, and for that, you need a frozen preparation. I then start making Mojitos in ice cube trays in my kitchen to see how it worked. 18 months later, I brought out the first range of Hadrian's Cocktails, which are made with real fruit, without artificial colouring or preservatives, and with that specific frozen texture that lets the product to be consumed immediately.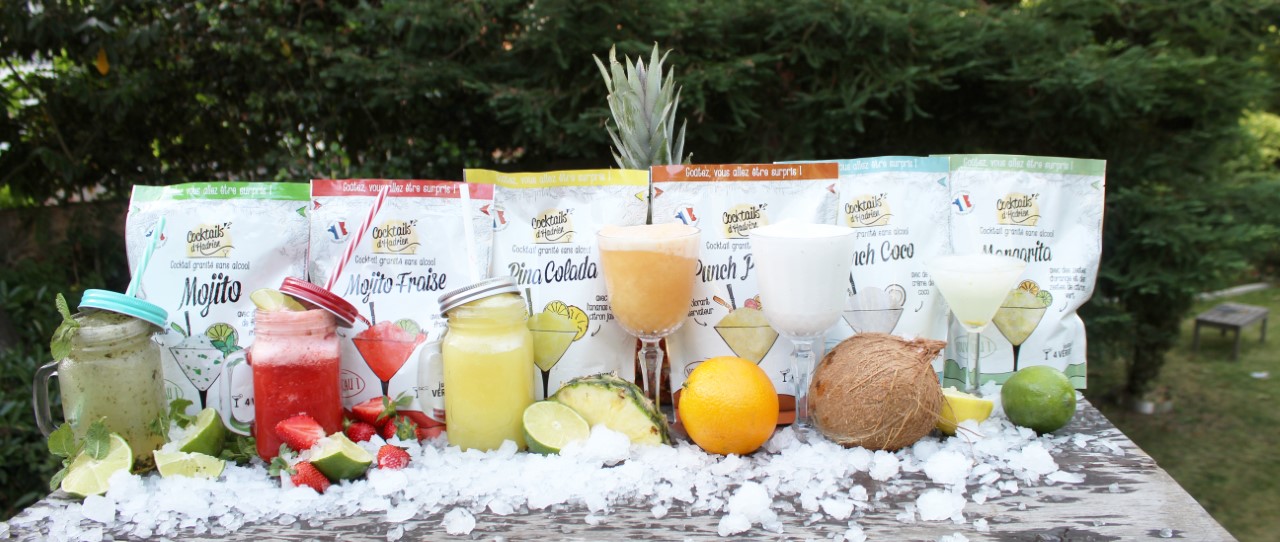 4️⃣ What are your development plans for the future?
We've gone from a presence in 40 supermarkets after our launch in 2017 to 450 in 2019. 80% of our cocktails are classics. This year, we are launching two new ranges for children, including a product made for the mass market. Our healthy popsicles sticks provide three of the five portions of fruit recommended for children. Our goal is to become the "Pom'potes" of popsicles. We've also established many partnerships with the organisers of festivals (the idea came from a festival after all!), but the economic situation cancelled all our projects. We were also going to provide amusement parks. Here again, the status quo. Finally, in order to offset the seasonality of our product, we are launching a range of salty cooking aids to have business during the winter periods.
5️⃣ How did your education at KEDGE Business School help you become who you are today, and what was it about its teachings helped you develop your project?
The first skill I developed at KEDGE was negotiation! Then the international aspect of the programme helped let me develop adaptability skills. Finally, I was able to be proactive and I always did more than required. In fact, the Pro-Act programme is really perfect for developing this ability. I did two Pro-acts when only one was necessary to meet the diploma requirements.
6️⃣ Hadrien, anything to add?
Our online shop is open during the lockdown and products can be delivered directly to your home while respecting the cold chain. Also, we are going to have a fundraising campaign in January 2021 to finance our growth!
DID YOU GET A PROMOTION, OR ARE LAUNCHING A PROJECT OR A START-UP?