POSTPONED - Take part in the 17th Annual Euromed's Cup 2020 Regatta
It's back!! Find your classmates at the 17th Annual Euromed's Cup!!
ATTN - POSTPONED!!
You never forget your years at KEDGE:
Linkedge is giving you the chance to reunite, at a regatta, your friends from your Class!
Do you want to navigate (sail?), take advantage of the beautiful days of Marseille, next to the sea, party on the Vieux Port?
Let yourself be guided by a Friuli breeze and challenge the other graduating classes on one of our 10 sailboats!
Don't know how to sail? What a shame!! A professional skipper will be there to steer your sailboat!
You'll also have the chance to be aboard our sponsor's boat, and so sail with Alexia Barrier, who qualified for the Vendée Globe 2020!!
It's a great way to end a day full of nostalgia and emotion!
Don't wait! Places are selling fast!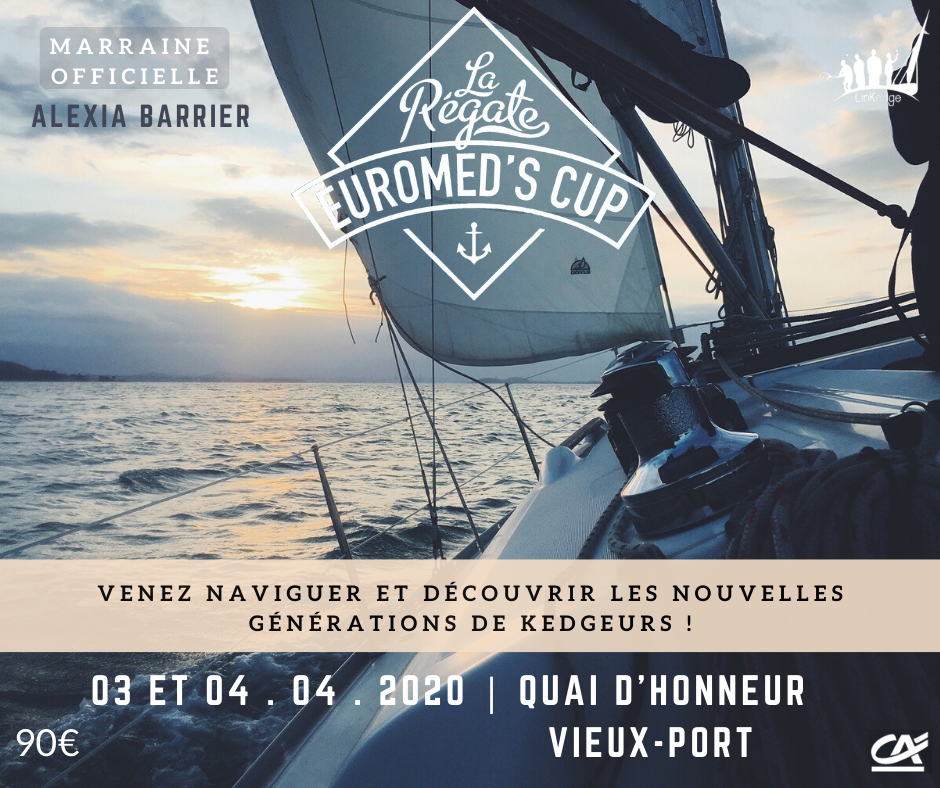 Programme:
7:00 pm: Cocktail conference by our sponsor, Alexia Barrier
If you wish, you can also present your company.
11 rue Montgrand 13006
9:30 am: Opening of the Village on Quai d'honneur
10:00 am: Breakfast on the Village
10:30 am: Regatta begins
12:00 pm: Meal on board the boat
4:30 pm: Return to the quay
5:00 pm: Presentation of awards followed by a closing cocktail
Logistics:
For those of you who would like, we have anticipated your need for a restaurant, which will accommodate you on its terrace on the Vieux Port, or where you can go Friday evening, as well as a hotel (hotel and restaurant costs are your responsibility)
Would you like to become a partner of this event?
If you are interested in a partnership, please contact Cloé CHUYEN at 06 50 78 1387, or cloe.chuyen@kedgebs.com to find out about the different proposals we can offer.
Locations
of your Event
Vieux Port - Quai d'honneur (in front of the Mairie)
Quai du Port
13002 Marseille