05/12/2018
Two Kedgers have an Esport School in Marseille!
Romain and Sandra, both KEDGE graduates, are behind the origin of MONCLUB ESPORT, a company that mixes sports and esports.
In 1999, Romain Sombret obtained his Masters in International Business from KEDGE before returning 10 later to do an Executive MBA. As for Sandra Sombret Niellini, she received her diploma from KEDGE's Grande École Programme in 1998. They are founders of the MONCLUB Futbol centre and associates of the MONCLUB 2.0 centre. They also hold degrees from OM Ludiq Camp.
Along with a third associate, Loïc Morere (ESBAM graduate), they started MONCLUB ESPORT. Created in Marseille, the club is based on a model that mixes sports and esport. "The concept was conceived after the success of 'MONOCLUB' that had been open for five years in the sports domain in Marseille. Our project saw the light of day because of the passion of our founders who had perceived the lack of structure at the professional, amateur, and trainer levels in the esport domain. The goal was to quickly unite occasional players and gamers because of the value it provided." - www.mces.gg
Romain wants to combine the "classic" model of sports with that of electronic sports using by both on-screen training and physical training sessions. In Korea, China, or the United States, where the discipline is already accessible to everyone, "esport players are trained as athletes, and work the body and mind, as well as their cognitive abilities," said Romain.
See this publication on Instagram
When you know that your mate covers your rear when you fall!
Article shared by MONCLUB ESPORT (@mces_officiel) 2 December 2018 at 4:58 PST
With expert trainers and coaches from the gaming world, and current popular video games, such as Fortnite, FIFA, Call of Duty, and Leagues of Legends, the godfather of the project and former champion swimmer Yannick Agnel promises parents : "esport in a safe area, with supervision, and above all a system of learning that prevents them from becoming completely sedentary! The idea is that they practice their passion appropriately, and that we can help the most talented reach the highest level possible!" Yannick Angel also speaks on various topics such as nutrition, training, stress management, and overtraining.
10 locations in 2 years and a desire to stand alongside the French Top 5
Monclub Esport already employs a dozen people in Marseille. Its goal is to have 10 locations within two years, with locations in Cannes, Paris, Lyon or Rome. Those gamers who are already in Marseille participate in national competitions with the aim of getting as close as possible to the French Top 5.
The Marseille Club
The gaming room is located in a multisport complex (Monclub 2.0) in Marseille in the Saint-Marcel quarter. The game room has 22 esport PCs (144Hz/1 ms screens, OMEN keyboards, MAXNOMIC gaming chairs) and consoles (PlayStation 4, Xbox One S, Nintendo Switch). The complex also possesses a 300 m² clubhouse, with a capacity of 150 persons, where events are organised.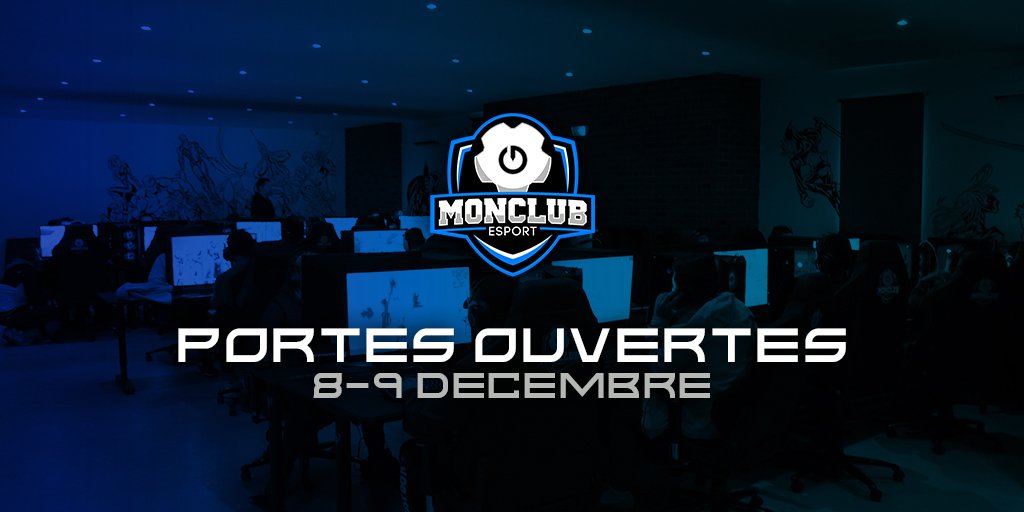 DID YOU GET A PROMOTION, OR ARE LAUNCHING A PROJECT OR A START-UP?