21/11/2018
Portrait: This Kedger is currently racing in the Route du Rhum
Sidney Gavignet is a well-known French skipper who is taking part in his 3rd Route du Rhum race and who has begun his MBA from KEDGE BS!
Sidney Gavignet, who will soon be 50 years old, is one of the most experienced French skippers. In the beginning of 2018, he decided to enrol in an MBA at KEDGE BS with the goal of making the most of his high-level experience as a coach and consultant for companies.
"Over my career, I've noticed that my different associates enjoy sailing. It can serve to stimulate engagement in companies […] such training can only help me structure my Route du Rhum project and my sailing projects in general […] I'd like to become an entrepreneur, I think that this training will be a tool, not only to validate my career as an ocean racer in general - which has been my entire life up till now, but also to open doors I never suspected I could open," he said.
On 4 November, Sidney Gavignet left aboard the Café Joyeux on his 3rd Route du Rhum race in the RhumMono category. (Café Joyeux is a coffee shop franchise where the majority of the staff has some type of handicap.) The solo race brings together more than 120 skippers starting at Pointe du Grouin to finish in Guadeloupe. The race is divided into six categories: Ultime, Imoca, Multi50, Class40, RhumMono, and RhumMulti.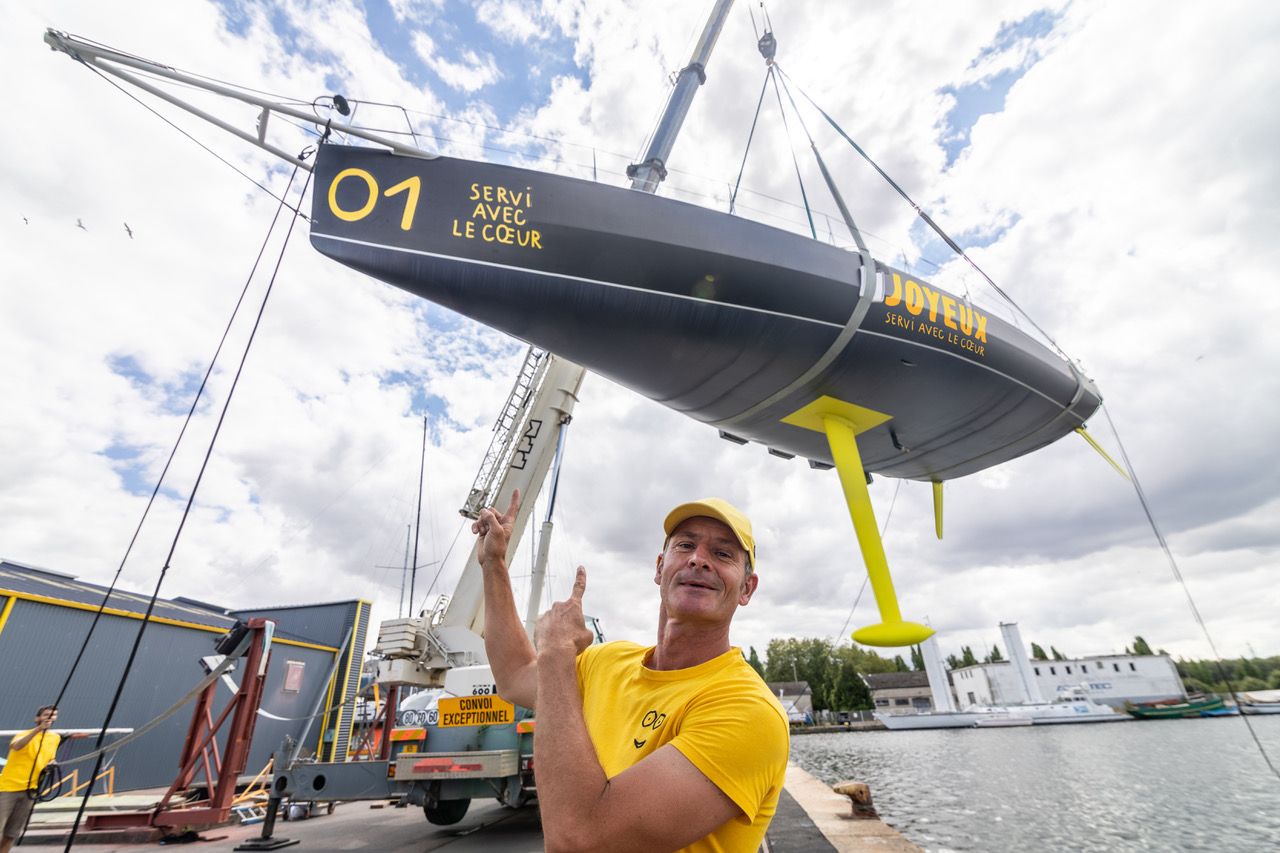 Sidney Gavignet has a very rich background. In 1986, he joined a sport-study section in Marseille and, in 1988, he began to prepare for the 1992 Barcelona Junior Olympics in a Tornado (a 6.09 m wide and 3.05 m long catamaran). In 1991, just before the JO, he became the Tornado Vice-Champion of France.
In 1996, he won the Transat Quebec-Saint-Malo aboard the Corum monohull skippered by Pierre Mas, and won the Tour de France aboard E.Leclerc skippered by Paul Cayard. In 2001, he finished in second place Volvo Ocean Race aboard the Swedish sailboat Assa Abloy. In 2005, he became helmsman for Mike Sanderson's ABN AMRO crew.
In 2009 he was recruited by the Sultan of Oman to train Omani sailors. With Oman Sail he participated in the 2010 Route du Rhum. He has bad memories of that race because he was forced to quit as a result of sustaining structural damage to his giant trimaran Oman Air Majan. Two years later, he finished second in the Transat Jacques-Vabre with Damian Foxall.
In 2014, he again participated in the Route du Rhum and finished 5th in the Musandam. "This was a great source of personal pride," he said. At the end of 2017, he ended his association with Oman Sail to embark on a new adventure, that of studies.
Sidney Gavignet is currently on the water and we wish him the best success!
---
Like this Kedger, boost your career with KEDGE Executive Education!
Benefit from preferential rates on all executive courses offered by KEDGE BS (any campus)
Alumni network life members (graduates): 25% reduction
Non-members (graduates): 15% reduction
FIND OUT MORE ABOUT THESE COURSES
---
DID YOU GET A PROMOTION, OR ARE LAUNCHING A PROJECT OR A START-UP?