17/09/2020
Discover the amazing portrait of this Kedger, founder of Galry, marketing consultant, trainer, and author!
Zoom on Stéphanie Allocio Moran, 1992 KEDGE graduate. Today she's at the head of the company GALRY and author of "La Boîte à Outils du Freelance".
1️⃣ To begin, tell us about your educational background. What did you study, both before and at KEDGE?
After I finished HEC prep courses, I got a specialisation in marketing at KEDGE on its wonderful Luminy campus, cradled in the Calanques, and enhanced by the sun of the South!. I then left Marseille, my home town, to start my career and, more generally, to start a new chapter of my personal and professional life in Paris. I fell in love with our beautiful capital, its cultural richness, and its exceptional heritage so I stayed here!
At KEDGE, I was Vice-President of the film association. I've always been passionate about culture, performing arts, cinema, etc., but then realised that I had a real passion for art, especially painting and sculpture. It was probably my time in the association that contributed to my subsequent involvement in the arts and culture sector.
2️⃣ Tell us what you did after your studies were finished. What positions have you held? What did you learn in those positions?
After that training, I immediately put my knowledge and marketing specialisation to good use. I started as a product manager, moved to brand manager, and then to marketing manager in international companies. I learned about business life, team management, and management of well-known brands such as Mumm Champagnes and Ballantine's whisky, all with a global dimension. In addition to my expertise in marketing, I developed interpersonal skills such as team leadership, marketing-sales synergy, assertiveness, and others.
10 years later, by both choice and out of a pure desire to continue to learn, I attended CELSA for a Master 2 in business and institutional communication. That year was exceptional and showed me how important it is to take a break and step back. My maturity and professional achievements up to then made learning even more enriching, and my expectations for myself were higher. The taste for training has never left me. I've been a training partner for the leading training provider, CEGOS, since 2005. I design and run training courses in marketing strategy, digital marketing, and communications. I made the switch to e-learning very early on, and have been creating and running video training courses for several years – well before distance-learning boom resulting from the Covid-19 crisis. My desire to teach and share information is also the reason why I teach master level marketing courses.
3️⃣ What are you doing/what is your situation today? What gave you the idea and why do you want to do what you're doing today?
After getting my education and those jobs, I gave free rein to my passion for contemporary and urban art and, in 2009, I founded GALRY, which is both an agency and an art gallery. However, I have never forgotten my first loves: marketing and communication, so I continue to carry out consulting and training activities at the same time. The important point is that I leave nothing out. I choose the AND rather than the OR. Today I'm what is known as a " slasher": founder of Galry AND marketing consultant AND trainer AND author (founder/marketing consultant/trainer/author).
4️⃣ What are your development goals for the future?
The news for the new academic year is the publication of my latest book, published by Dunod/Hachette. After having co-written several books, my book, "La Boîte à Outils du Freelance" (The Freelancer's Toolbox) was published at the beginning of September. It's a practical guide for freelancers. Everything to succeed in surpassing yourself and getting out of your comfort zone is in there:
starting your own business;
creating your own brand;
defining your product and service offers;
taking care of your personal branding;
identifying your target;
boosting your professional efficiency.
This book is close to my heart because, being surrounded by freelancers and entrepreneurs both in my agency and my artistic activities, it seemed essential to me to contribute to giving the keys to growth for the increasing number of freelancers in France and abroad.
My aims are also to continue to develop GALRY, whose activities are both the sale or rental of works to art lovers and collectors, as well as holding team-building activities and artistic events. In short, it handles anything that brings an artistic focus to a company or cities, and that brings beauty and meaning to as many people as possible.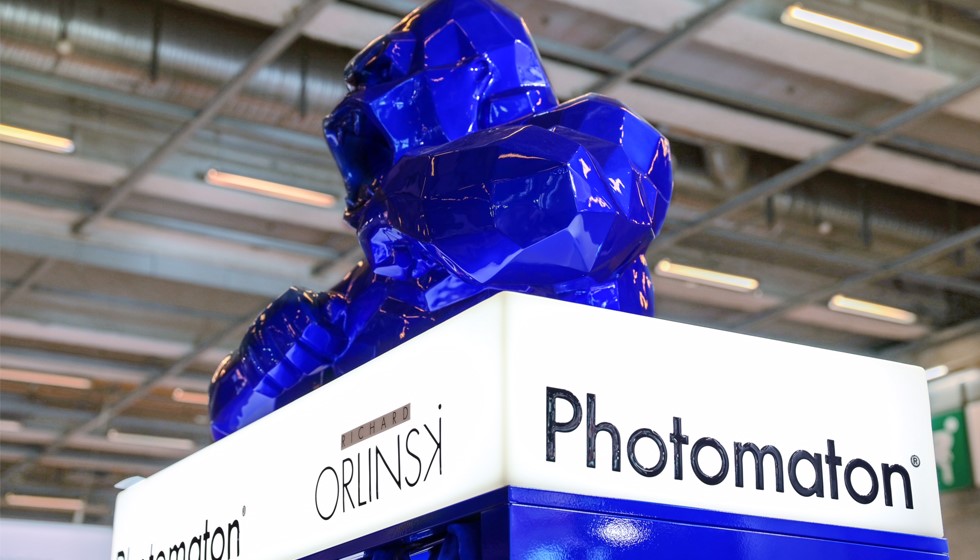 Creation Richard Orlinski for Photomaton, in partnership with GALRY.
5️⃣ If you were to give advice to any KEDGE graduate who wants to do something similar, what would it be?
Believe in yourself and don't wait. Go for it! Listen to your passions, your deepest desires. Do what you love to always take yourself further, don't be afraid of the unknown, constantly reinvent yourself, and always go further. Don't be satisfied with what you've already achieved and your comfort at the moment, but always look beyond. As Oscar Wilde used to say, " Shoot for the moon. Even if you miss, you'll land among the stars".
KEDGE Business School gave me a solid education and a way of life that helped me become what I am today and taught me to open myself up the field of possibilities. It gave me the desire to go beyond my dreams and my passions.
6️⃣ Anything you'd like to add? A message to pass on?
Whether on a personal or professional point basis, for all your business decoration plans, events, or advice on how to start a contemporary art collection (as well as tax exemption schemes linked to the purchase of art) don't hesitate to contact us at Galry: contact@galrystore.com.
DID YOU GET A PROMOTION, OR ARE LAUNCHING A PROJECT OR A START-UP?