16/12/2018
Chrono Privé, online private sale of watches, created by a KEDGE Alumnus!
After several years in Switzerland, Benjamin RANCHOUP (ESC 2011) is taking over an unoccupied market: online private sale of watches.
Hello, Benjamin! To begin with, can you tell us about your professional and educational background?
I joined KEDGE after a rather traditional path: I obtained a scientific bac, then an IUT in management, then I took a year off to take advantage of an ERASMUS programme, and then completed my studies with a Bachelor in International Marketing in Finland! At KEDGE I specialised in Sales, and then did a work studies programme in Business Engineering with a Xerox partner specialised in the medical sector.
I was actively looking for a VIE internship in BtoB sales in Asia in 2011 after I obtained my degree, when I was contacted on LinkedIn by an IT recruitment agency. They were looking for sales professionals for their office in Geneva, to manage some of their clients, and mostly to develop the business in Switzerland and Europe. I didn't hesitate long, the proximity to the lac and the mountains were very attractive! And my Swiss adventure began...a little by chance! After being promoted internally several times, I was asked to manage several key accounts, including a leader in the luxury industry, very active in fine watchmaking.
Today, you are launching Chrono Privé. Where did you get the idea?
By taking an interest in the details of the activity, the history, as well of the production of the group, I fell in love with the watches I discovered. After thinking about it and taking a step back, I believe I have learned enough to appreciate these products for their fair value. In 2017, I decided to take the leap and turn my passion into a career. After talking to my associate Charles, we realised that the sector of fine watches and private sale e-commerce didn't exist and in parallel the issue of stocks are real issues that more and more watch brands and manufacturers are facing. This is how the
"Chrono Privé"
project was born, the first site for private sales dedicated to fine watches. In order to improve my skills in the field, I decided to pursue two diplomas at the Fine Watchmaking Foundation in Geneva (Watch Essentials certification, then the Watch Expert certification in 2017), as well as a more technical training in basic mechanic watchmaking in Besançon, one of the cradles of watchmaking in France.
What are your objectives for the future?
Today, I completely focused on Chrono Privé. We are in two important phases: first we are meeting our potential suppliers, the watchmaking brands and manufacturers, and then communicating on our platform
https://chrono-prive.com
- pre-registration have been opened since January 2018 - to grow our community of enthusiasts. The principal of exclusive entry is simple: only those who registered before the first private sale will be able to access the final sale! Then, the others will have to wait to be sponsored by another member to join the Chrono Privé community and be able to take advantage of the sales. The objective is to offer the first sale and launch the activity before the summer of 2018!
With chrono-prive.com, we aim to become a leader in the private sale of watches in France and Switzerland, by working directly with the Houses (brands and manufacturers) on quality pieces. Additionally, we wish to promote and raise awareness in our own way about fine watchmaking for a public that is similar to us, by proposing unbeatable prices on beautiful time pieces selected by us.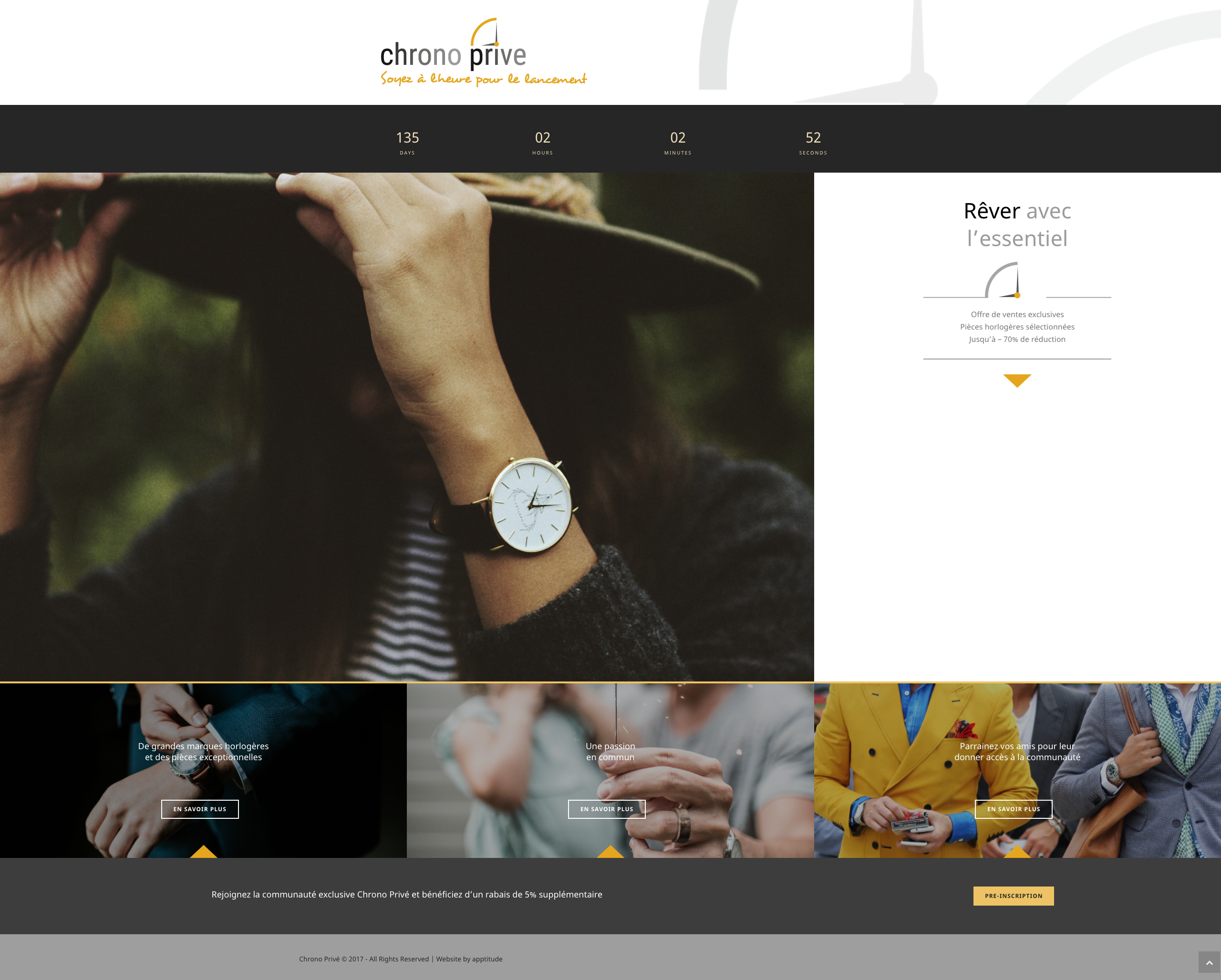 How did your time at KEDGE Business School help you with the project, and in your professional and personal life?
KEDGE, it is first and foremost an open door to the future. It's lots of wonderful meetings, moments of intense joy, and sometimes difficulties, it's the occasion to build a solid network, and make friends during unforgettable events, while building your educational and professional path. Without a doubt, my three years on the Valence campus contributed to building my character and helped my acquire a solid foundation to move forward in the professional world!
If you had one piece of advice for future KEDGE Alumni, what would it be?
Listen to your heart and believe in your passion, without ever complaining about the work, while trying to do things in order, without rushing. That is when we are the most creative, and can surpass ourselves.
Dream big! And in order to take advantage of the first private sales of watches, I invite you ALL to pre-register without delay on chrono-prive.com. Don't hesitate to reach out to us via email, Linkedin, Facebook, and Instagram, we would love to chat ;-)
DID YOU GET A PROMOTION, OR ARE LAUNCHING A PROJECT OR A START-UP?