13/09/2017
The app created by this KEDGE Alumnus allows you to contact people nearby!
By creating Sircle, Grégoire Bruni (MSc Media, class of 2008) wanted to give smartphone users the possibility to connect with people nearby, by taking advantage of the new trend in geolocalisation apps. 
Hello Grégoire, to start with, tell us about your educational background, what did you study?
Before joining the Media Masters programme at KEDGE, I received a degree in sociology and a degree in Public Management and Territorial Governance, with a major in culture and media from IAE in Aix en Provence. In then made sense for me to join the Masters in Media at KEDGE in order to further my education. KEDGE was very intense, formative, and fun and also enabled me to meet with future collaborators, whom I worked with for several years. I have great memories of KEDGE, there was an energy that I've rarely seen before, a collective energy to work but also to celebrate. I remember the Student Bureau's "blind test" parties, where we shared free pizzas and a bottle of wine among friends if we won, which we tried to do as often as possible, of course.
Tell us about what you did after school, where did you work? What did these positions teach you?
After receiving my degree, I very quickly started working at the Mindshare Agency, part of the WPP group (world's leading communications group), where I was in charge of TV Media Investments for major accounts, such as Ubisoft, IBM, LG, or HSBC. Then, I worked at Omnicom Media group (2nd leading communications group), where I focused on digital for clients such as 20th Century Fox, Canon, Pepsico Group, and Société Générale. I started out in these companies and gained a lot of insight about the French digital ecosystem. I also learned to drive business for major companies working internationally using different digital channels. Then, I had my first entrepreneur experience at Advideum, the leading French advertising network, where I worked for six years (Advideum represents all the major French media companies: Le Figaro, Le Monde, L' Equipe, Les Echos, Vogue, GQ...etc and sells their video ad space). That's where I started to become interested in entrepreneurship and experienced my first thrills as part of a start-up. We started out with just four people and recruited more than 40 collaborators. We went from having an annual revenue of 0 to several tens of millions of euros in just a few years, then sold the company to the group Prisma Media (Geo, National Geo, Gala, Voici...). At the end of these six years, I decided to start a new project: an application for the general public.
Tell us about Sircle, your start-up. How did you come up with the idea for your project?
The idea for "Sircle: Be connected, for real!" started during my last year at my former company: as we were growing, we were recruiting more and more collaborators, and finally, when we mutualised our teams with the teams at the group that bought us, the people around us were becoming more and more "anonymous". In other words, we no longer knew the people with whom we were spending the larger part of our days...which is weird for a company that started out almost as a family business. In fact, that is what happens to any company that grows or within in large groups. The challenge is to manage to maintain the company's DNA as its activities and staff grow. For me, that meant having the possibility to interact and exchange with as many people as possible, but that isn't really easy when you start to have a lot of people. So this gave rise to the idea for a simple digital tool, an application, that would enable you to know in real time who is nearby and to have the possibility to interact with the people with whom you would like to. I realised that no such tool already existed, and decided to examine the problem in different contexts: it was true in the professional sphere (at the office, with our clients, or partners, during professional fairs...), but it was also true in other contexts, like on a student campus, at the gym, or while traveling. It also became clear and obvious to me that aside from "dating" apps, there were no simple and global tools that could adapt to different situations we live every day and would enable us to connect to those around us. There are social media, you might say. And that's true, but none of the existing tools enables me to connect in real time to those around me and adapts as I travel. But social media is also part of our solutions: we integrate Facebook, Twitter, LinkedIn, and Instagram to our application to create a whole new type of profile. We have developed a geolocalisation algorithm, as well as a "social" algorithm that are combined within Sircle, which enables you to know who is near you in real time and who you have the most in common with. You have the freedom to interact if and when you want. This gives you a new and easy way to discover the world around you, to create new links, and stay informed about the activities of your friends and family, increase your personal and professional networks, and connect instantly with people you may find interesting, as you are travelling...the possibilities are endless.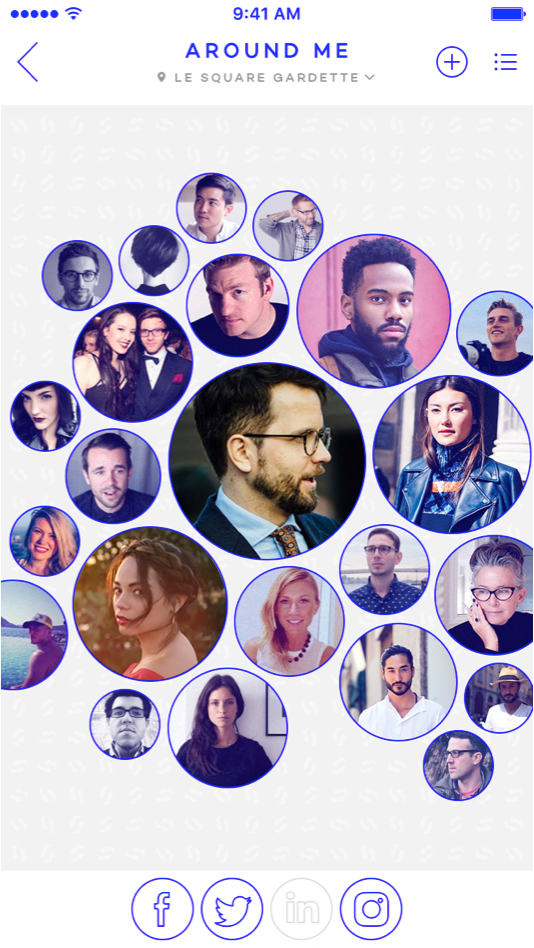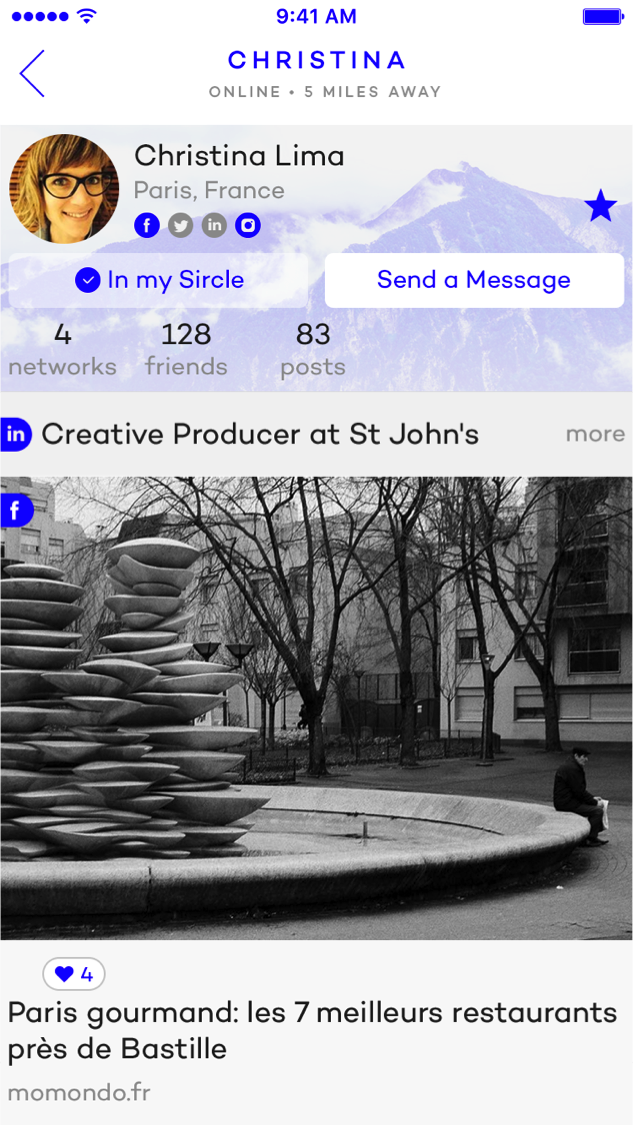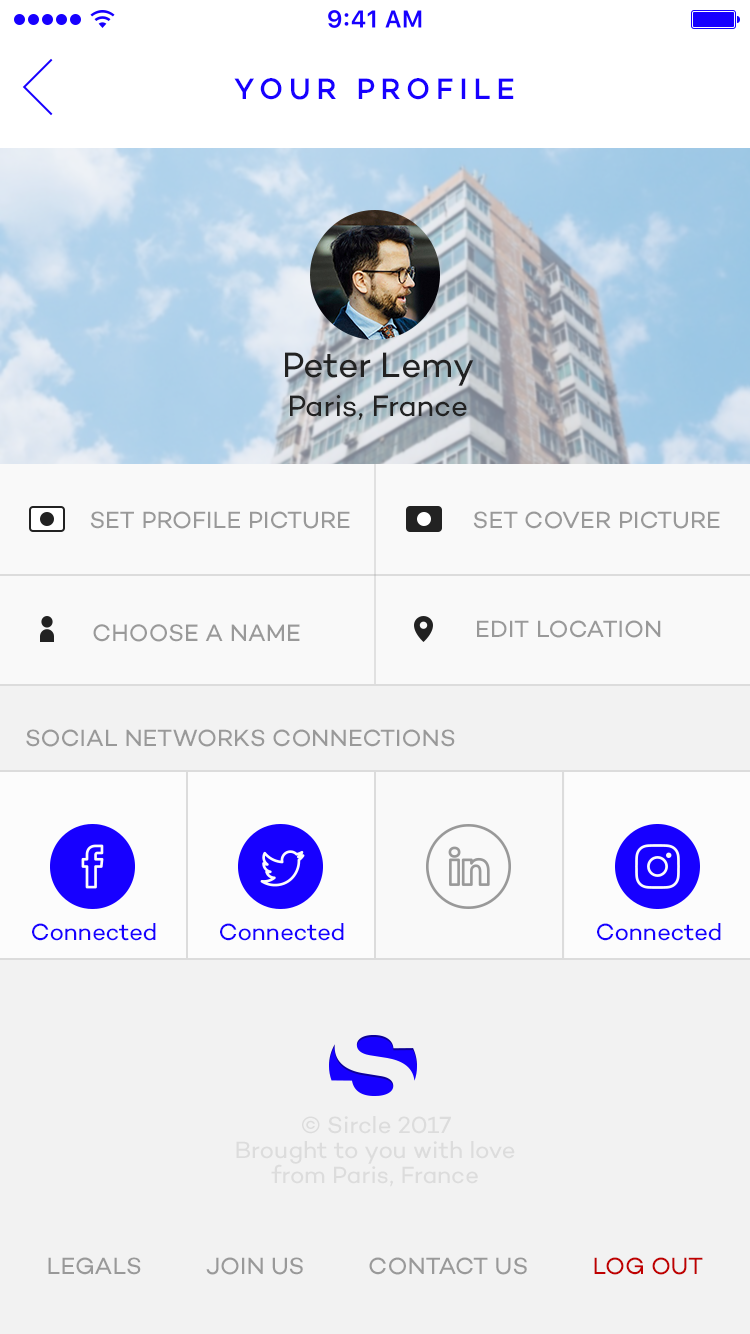 What are your future development objectives?
We are just coming out of an R&D phase that enabled us to put together the first version of the app, that was recently made available privately on the Apple store and Play store. We will officially launch the application for the general public in the fall of 2017, starting in September. In parallel, we are launching the application with our partners: the major communication groups in Paris or the Marsatac Music Festival in Marseille for example, which enables us to learn from the users, from their expectations, and adapt our service. We are constantly changing the service. Our objective is for the application to be used by as many people as possible, of course, because we are convinced that it will be really useful to a lot of people, and our service will be more and more useful as the number of users increases. To continue to finance our development, we are considering conducting our first fundraising operation in the coming months.
How did your education at KEDGE Business School help you become who you are today, how did what you learn at KEDGE help you develop your project?
Kedge was the stepping stone for my career in the media industry, of course, and provided me with many of the academic and practical tools I needed to thrive professionally. It is this education that brought me here today, as an entrepreneur launching my own project. However, it is really the openness to others and to opportunities that I really took away from my time at KEDGE and the values the school taught me. It is in KEDGE's DNA and is in my opinion in every personal and professional project: maintaining your originality while being open to what is around us because that is how we can seize the right opportunities and that great projects come to life.
If you had one piece of advice for KEDGE Alumni who want to follow in your footsteps, what would it be?
- Know when to seize the opportunities that present themselves, even if they aren't the ones you expected.
- Don't be afraid to take risks.
DID YOU GET A PROMOTION, OR ARE LAUNCHING A PROJECT OR A START-UP?