Register for FRESH START via video-conference
Career conversion workshop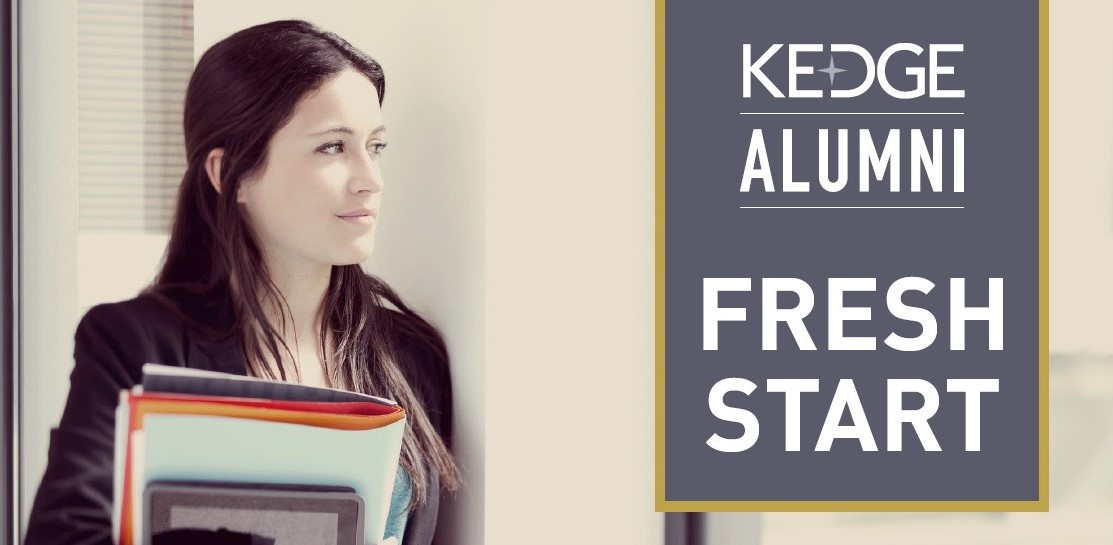 Are you a KEDGE Business School Alumni doing a professional repositioning? Discover our Fresh Start programme.
Teaching objectives:
Encourage participant to reflect on their professional changes.
- Analyse your background and your achievements: identify your strengths, your skills, and areas you need work on in order to use them in your approaches towards your growth.
- Help you look to the future: build a professional career plan, and adhere to a dynamic of change and progress.
- Create an action plan: define the means and actions to make your transition a reality.
Who's this for?
Are you in a position and looking for a career change? Are you looking for employment after working for a company for several years? Do you want to receive support during your career transition?
Don't hesitate to take advantage of our Fresh Start video-conference service. This service is accessible by EVERYONE, no matter where they may be!
Detailed Programme:
1st workshop (GROUP): Get started
2nd workshop (GROUP): Better understand the "MBTI tool" in a group
3rd workshop (INDIVIDUAL)1.5 hr: Better understand the

"MBTI tool" in a one-on-one session

4th workshop (GROUP): Develop essential skills (share job success stories, identify key transferable skills)
5th workshop (INDIVIDUAL) - 1 hr: Gather personal data to build your pitch
6th workshop (GROUP): Create and share your career plan
7th workshop (INDIVIDUAL) - 1 hr: Validate your career and action plans
8th workshop (GROUP): Feedback on field actions, update action plans, assess actions
Session Dates:
GROUP: Monday,

13 January 2020 from 6:30 to 9:30 pm

GROUP

: Monday,

20 January from 6:30 to 8:30 pm
INDIVIDUAL: between 20 January and 2 February

GROUP: Monday,

3 February from 6:30 to 9:30 pm
INDIVIDUAL: between 3 February and 16 March

GROUP: Monday, 16 March from 6:30 to 9:30 pm

INDIVIDUAL: between 16 March and 4 May

GROUP: Monday,

4 May from 6:30 to 9:30 pm
Practical information:
6 participants maximum
module of 5 group workshops (14 hrs total) and 3 individual sessions (3.5 hrs)
workshop via video-conferece; you just need a computer, an internet connection, and ideally a webcam
Locations
of your Event
Videoconference